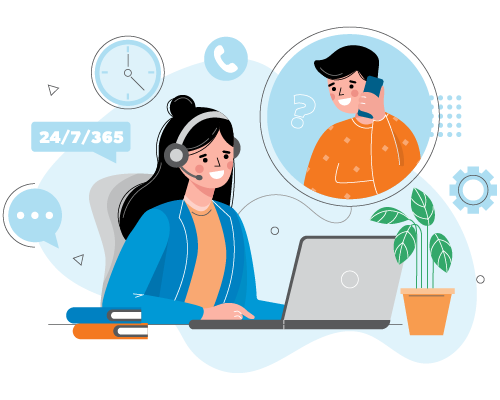 We build long-term customer relationships and revenues!
HelpGrid turns your cost center into a profit center. Trust our sales agents to convert your abandoned carts to customers. While our customer service representatives provide high quality support to all your clients from beginning to end.
Must-have for all online retailers
Real conversations with live agents
Available in all English speaking countries
Find the right combination for your brand!
HelpGrid creates a seamless customer experience by utilizing all our services hand-in-hand. Or, simply choose what your business needs.
Customer Service
Our 5-star rated support team is committed to resolving all customers' concerns quickly and effectively. Our highly trained and knowledgeable HelpGrid agents are familiar with common chat, email, shopping, and social media platforms but can adapt to any proprietary systems that your company requires. Whether it's over the phone or written form, live agents are always smiling on the other side.
Abandoned Cart Recovery
Our outstanding sales team recovers about 1 in every 5 abandoned carts using our comprehensive approach that includes phone, text, and email. That could mean 1-100's of thousands in additional revenues monthly. HelpGrid sales agents don't just save the sale, they upsell and cross-sell to increase every cart value.
Order Taking
Our dedicated order taking agents are standing by to process orders over the phone. Some customers simply don't like making an online purchase, so they turn to someone human to give them that extra care and attention. We assign a special number that you can feature on your landing pages, ads, or even commercials.
HelpGrid exceeds expectations!
HelpGrid is your all-in-one Call Center that delights both customer and company with amazing results.
24/7 Live Agents
Customer Service
< 2 min Wait Time
Customer Service
82% 1st Contact Resolution
Customer Service
Custom Integration
Abandoned Cart Recovery
20% Recovery Rate
Abandoned Cart Recovery
$180 Average Order Value
Abandoned Cart Recovery
Responsive IVR
Order Taking
24% Conversion Rate
Order Taking
Upsell to maximize AOV
Order Taking
Trusted by world's leading companies
HelpGrid is the top-rated BPO Solutions Provider for domestic and international e-commerce.
"Love working with HelpGrid - moving our support needs to them has taken such a huge load for us. Our customer support runs very smooth and customers are super happy. Being in direct touch with the supervisors is an additional piece of mind - they are always there for us. It made the onboarding and ongoing partnership so much more personal and valuable. "
"Traffic volume was consistently low in the beginning stages of the business, but HelpGrid was patient. They were only recovering a few hundred dollars a week, and now it's at $12,000-$15,000 a week."
"Last year, the company started off with 10 products which HelpGrid was able to recover $31,000 in sales each month. There are more than 21 offerings now and more abandoned leads, HelpGrid sales agents recovered about $350,000 in revenue last month."